Military Discount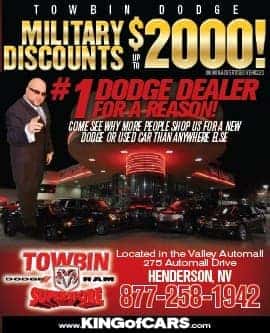 Towbin Dodge LLC is proud to support the men and women of the United States Armed Forces, both at home and abroad. Towbin Dodge LLC has numerous military-related programs emphasizing community growth, support, and gratitude throughout the United States and the world.
The Chrysler Group LLC brands have long been an integral cog in our nation's fight for freedom. Consider the Jeep® brand: Born of American ingenuity and tested in the heat of battle in jungles, deserts, and battlefields during World War II – the hardworking and loyal Jeep® 4x4s garnered heroic praise and unwavering devotion from allied soldiers the world over. One Jeep® vehicle was even awarded the Purple Heart for meritorious valor and duty. The Dodge brand contributed mightily by producing a large percentage of the Army's fighting wheeled vehicles including large six-wheeled troop and cargo transports, light command cars and ambulances. The Chrysler brand can trace its military support back to the 1930s. As a designated major U.S. defense contractor, Chrysler has at one time or another produced everything from Sherman tanks to B-29 bomber engines; from all types of military vehicles such as ambulances and amphibious trucks to antiaircraft guns, shells, missiles, and even field kitchens and refrigerators.
Chrysler Group LLC and Towbin Dodge are proud to support the members of the U.S. Armed Forces and their families. Whether it's defending freedom abroad, securing our homeland or making democracy safe for all, these patriots are the backbone of our country. "Honoring Those Who Serve" is our special way of saying thanks for everything they do.
For 2015 model year vehicle purchases and leases, Towbin Dodge will give extra incentives that can add up to $2,000 off to all qualified enlisted military personnel, veterans or immediate family member living in the same household. Go ahead, enjoy the freedom to roam, in the Country you serve and defend.